Linen rentals in Spain
Sale and rental of tablecloths, chair covers, tableware, napkins and drapery for weddings and events.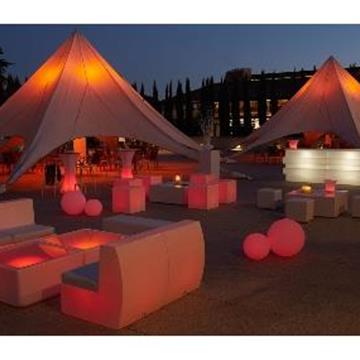 Getafe, Madrid
Grupo Abasa focuses on the rental of furniture, household goods, tents and decoration of events.
Barcelona
Rental of tables, chairs, dishes, glassware, table linen and all kinds of kitchen equipment. Chill-out furniture and balls, puff.
Gijón, Asturias
Company dedicated to rent all kinds of facilities, articles and services for social events.
Madrid
Party 10, equipment rental for all kinds of events. Tents, furniture, kitchenware, decoration and so on to provide the best service for any type of celebration.
Marbella, Málaga
Deli Kosher Catering & Events was created to provide personal and professional coverage in any event of the Jewish community or any kosher event.
Córdoba
Sale and rental of furniture for events, chairs, tables, dishes, linens, stages, tents, stoves, air conditioners, overhead, and led furniture.
Paterna, Valencia
Every customer is a challenge for us, and a chance to show what we do ...
San Sebastián de los Reyes, Madrid
Mantelroom is a team of professionals specialized in sales & rental of luxury linens for events
tuservilleta.com
We customize napkins and coasters from 250 units and deliver them in 7 days. High quality printing with metallic and mate colors. We serve all Spain.
Mislata, Valencia
Nappelux Boutique del Mantel
We are a company dedicated to the sale and manufacture of linens and textiles for hotels and industrial laundries.
Mérida, Badajoz
Mantelería y Menaje
We are a company that offers rental of furniture, tablecloths and utensils for weddings, events and different celebrations.
Murcia
Brent Linen Hire
Tablecloth supply, hire/rental at cheap, Wedding/party/event tablecloth round, Special event table linen, Coloured tablecloths hire, Napkin for hire, Chair cover for hire, Sash, table runner for hire.
Badalona, Barcelona | 796 64 35 27
Eventos Armony
Eventos Armony is a company specializing in furniture rental for all kinds of events (corporate, institutional, weddings, private) company. We offer our services nationwide.
San Vicente del Raspeig/Sant Vicent del Raspeig, Alicante
Grupo Eventos
Organization of events throughout Spain, specializing in companies, institutions, associations and individuals. Over 40 years of experience.
Cantoria, Almería