WE SPEAK ENGLISH
360º Photobooth. Discover our Glam Cam 360 Slow Motion, Glam Cam Bullet Time and Glam Cam Track 360º and live the #GlamCamExperience. Record spectacular videos with the 360º Slow Motion effect.
WE SPEAK ENGLISH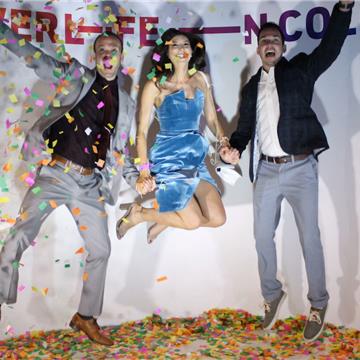 Discover our 360º Video Booths, Bullet Time, Augmented Reality and many more for all kinds of events. 360º Photo Booth, Slow Motion, Bullet Time. Quotation request: eventos@glamcam.es
Madrid
Company specialized in renting photographic equipment with the latest equipment and market innovations, serving the entire Peninsula, Portugal included.
Nosolofotomatón allows brands to be known by quickly reaching the public. The visual impact is very fast and powerful, thanks to the printed photos, the upper screens
Madrid | 635 34 19 21
Photo booth rental service for weddings and events. If you want your guests to take home a great memory of your events, you have to hire a rental photo booth, guaranteed success!
Zaragoza | 696 21 87 24
The magic mirror is a versatile and different photo booth with which to surprise while giving an elegant touch to an event
Valencia | 613 35 67 44
360 Photo Booth, Magic Mirror Photo Booth, Slow Motion, 360 Degree Video Booth Ideal for special events, Have your guests have an incredible time at your event.
Valencia | 612 55 47 91
Festivat offers a compact photo booth with all the components inside. With an optimal print quality, thanks to its 21 MP reflex camera and its DNP printer.
Rubí, Barcelona | 937 31 07 58
With our exclusive decorations we help to transmit a special, unique and captivating atmosphere at events, leaving behind the boring and simple spaces that are usually offered to hire.
Zaragoza | 644 72 18 21
Dronefels is an audiovisual production company specialized in aerial filming with professional drones. Located in Castelldefels, we record all kinds of events from the air, weddings, events.
Castelldefels, Barcelona | 690 09 93 71
Coruña (A), A Coruña | 675 68 04 05
PARTYCAM360
FOTOMATÓN 360, the latest trend in 360 video selfies.
Zaragoza | 644 66 09 36
FH Visual
Audiovisual production company in Gran Canaria. Since 2020, FHVIDEO audiovisual production company serves and proposes video solutions for companies.
Palmas de Gran Canaria (Las), Las Palmas | 654 23 39 46
SB Service
Rental of televisions, led wall, interactive screens, outdoor touch totem, bully photo 43 inches private wifi for photo sharing and printing
Sant Boi de Llobregat, Barcelona | 637 45 72 82