Live music & bands in Barcelona
Live music in Barcelona, shows, artists, mariachis, music for weddings and events.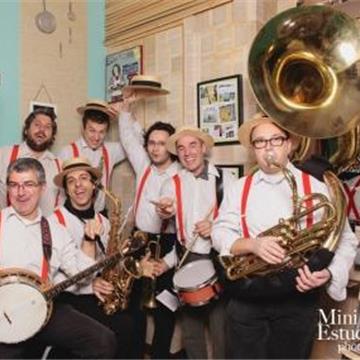 Barcelona
Moby Dixie is a formation of Oriental Vallès (Barcelona) dedicated to playing traditional dixieland jazz style as did the bands of New Orleans in the early twentieth century.
Barcelona
Duquesa Quartet is an elegant, vibrant and sophisticated proposal that can be adapted to an intimate dinner as to a great event.
Barcelona
We work with our clients to provide them with a different experience, because we have the know-how and the "Duende!" We create original and professional programs always tailored, adapted to different
M&M SoundTrack was born from their passion for music. Being able to share their talent and offer this profession that they love so much for others to enjoy is one of their main objectives.
Badalona
Acoustic duo of pop-rock covers for events, parties, celebrations and weddings. Live music in small format for your event.
Barcelona
Brazilian batucada in Barcelona. Joy and fun for weddings and parties!!
Mataró
Company specialized in the rental of professional sound and lighting for all types of events.
Vallirana
Show that combines live music, choreography and animation, where a review of the best-known musical Hits in the history of music is made.
Barcelona
Red Mango Music is an event production agency with more than 15 years of experience in the sector. We have an exclusive catalog of artists with names of international stature.
Mariachi México Folclórico
Authentic Mexican Mariachi in Barcelona, ??for all kinds of events, elegant, cheerful and professional. Very complete repertoire. We move to any population. We have a new CD.
Barcelona
Marco Pantanetti
Live show with Latin American Rock classics. Cerati, Soda Stereo, Andres Calamaro, Charly Garcia, Virus, Grandparents of nowhere, Enanitos Verdes, and much more.
Terrassa | 620 27 11 42
Àurea Música
Áurea Música is a company that offers live music for all kinds of events. We guarantee an exquisite musical touch and personalized quality to all kinds of event.
Badalona
Diablos de la Pampa
We are Milton and Gala, the performing arts company "Diablos de la Pampa". Our shows are ideal for any location and type of event.
Pineda de Mar
Espectalium
We are an artists and shows recruitment agency. Mainly we are dedicated to corporate events with the guarantee of a team of professionals with extensive experience in the sector.
Barcelona
Monel Jazz Trio
Barcelona